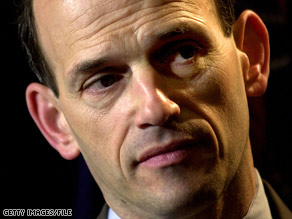 Maine
joins the list of states that have legalized gay marriage. It is only a matter of time until we repeal DOMA and have, at least, civil unions across the nation:
(CNN) -- Same-sex marriage became legal in Maine on Wednesday as Gov. John Baldacci signed a bill less than an hour after the state legislature approved it.

Maine Gov. John Baldacci signed a bill Wednesday legalizing same-sex marriage.

"I have come to believe that this is a question of fairness and of equal protection under the law and that a civil union is not equal to civil marriage," said Baldacci, a Democrat.

But he raised the possibility that the residents of the state would overturn the law, saying, "Just as the Maine Constitution demands that all people are treated equally under the law, it also guarantees that the ultimate political power in the State belongs to the people."
The People's Veto will make it something like Prop 8 was in CA, hopefully with better results. If it is used, the issue will go to the voters of the state. They will have to vote on it, but ME is a liberal state. We can just hope to win hearts and minds.