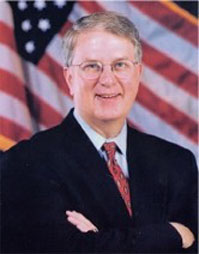 Has anyone checked out former Governor and current gubernatorial candidate Roy Barnes's Wikipedia page?
Here's
an excerpt
:
He defeated Republican businessman Guy Millner 53%-44% in the General Election. The Democrats retained control of both houses of the legislature and retained all but two state level offices (Republican were elected Insurance Commissioner and School Superintendent). Pushing education reform, Barnes focused on a smaller teacher-pupil ratio and more accountability by raising academic standards. He also supported legislation that guaranteed patients the right to choose their physicians and helped pass legislation that allowed insurance companies to be held liable for denying or delaying health care for individuals. Barnes successfully pushed for tax cuts on family farms and established a sales tax holiday for Georgia.

...

Facing re-election in 2002, he lost in an upset in November 2002 due to his stands on those issues, as well as part of a larger GOP midterm sweep. Particularly important was the impact the flag decision had had on rural south Georgia counties, where his vote percentages shrank by 20% in places. Following his defeat, he decided to lend his talents to a legal aid group and offer his talents in the field of private consulting and certain legal defense. For his stance on the Flag Issue and the price it ultimately cost him, Roy E. Barnes was awarded the 2003 Profile in Courage Award by the John F. Kennedy Library Foundation. Barnes founded the Barnes Law Group[3] with his daughter soon after leaving the Governor's Mansion, where he works with his family.

According to Georgia Trend, Democrat Roy Barnes was one of the most powerful governors in history. His nickname "King Roy" was an affectionate term accorded him by supporters because he knew how to pull the levers and make things happen in the legislature. Barnes' Republican opponents used the term in a not-so-friendly manner, as a sort of slur.[4]

I was waiting for the part where Barnes cured cancer and perfected cold fusion.
I'm not saying this to knock Barnes -- on my occasions of meeting him, I'd say he's a nice enough guy, despite any policy disagreements -- but just to point out that Wikipedia isn't always the greatest source for a full overview about a person. Real criticism of Barnes is completely removed from his entry, and he's portrayed as a hero who repeatedly fell on his sword for "controversial" but honorable pieces of legislation.